Greetings Golden Tiger family,
As we all know, July 4th holds a special place in the heart of us all at Tuskegee University. What better way to celebrate our 140th birthday than to contribute to the longevity of our extraordinary institution with a gift to the Golden Tiger Fund. The Golden Tiger Fund supports student scholarships, ongoing faculty and staff training, student housing renovations, and so much more.
This year let's continue to acknowledge and appreciate the history and accomplishments of African Americans. The 1881 challenge is an opportunity to show that our TU family can make anything possible if we all come together. Whether your gift is $18.81, $188.10, or $1,881, it will help to sustain the opportunities you've made possible in the past as well as create many new opportunities across our campus. During last year's challenge, we surpassed our goal and raised $65,000 from over 1,500 donors. However, because of the tremendous impact we know our TU family can make, we want to set our sights higher. This year's goal is 2,000 donors, and we are confident you will help us reach our goal.
So, let's come together and show the true strength of our Tuskegee University Golden Tiger Family this July 4th. Put on your favorite Tuskegee t-shirt, join the challenge and then challenge your friends with a gift of $18.81, $188.10, or $1,881!
Sincerely,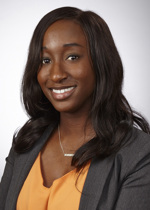 Kelnesha Johnson '14
Kelnesha Johnson '14
1881 Challenge Campaign Leader
Young Alumni Ambassador
P.S. Round up your spare change and make your gift on-going by clicking here to sign up for the RoundUp App!
Remember, any gift made to the university will also count toward your Eminent Associate status. The Eminent Associates program is one of the university's donor recognition societies. If you are not an Eminent Associate and would like additional information, contact the Office of Alumni Affairs today at 334.727.8881.
This campaign was created by the Tuskegee University Young Alumni Ambassadors and fellow young alumni in partnership with the Office of Advancement and Development.